More than 4 billion plastic cups are used each year, according to a recent study in France. These figures show that the rate of waste per person, over a one-year period, is between 2 and 5 kilos.
This disposable product is used in concerts, cultural events, office supplies or hot drink dispensers. The disposable cup is practical and light, but represents 32,000 tons of plastic waste per year, 60% buried and 40% incinerated. In addition, the disposable cup is made up of four times more natural resources than reusable cups.
What are the advantages of the reusable cup?
As we saw earlier, the impact of disposable cups is negative for our planet. We must think of new solutions, such as reusable cups. Be conscious, and protect our environment. Then discover the advantages of reusable cups:
They are solid and can be used up to 150 times! In the end, it can be recycled and transformed into a new product
The impact on the environment is minimal, except for the consumption of water to wash the glass. They are ecological products
These cups can be customized with the colors of your event. We can print an illustration or a phrase on the surface of the glass. It will be a unique glass, your image
Can be used to serve desserts, juices and even alcoholic beverages
This purchase will pay off in the medium / long term, because you will not have to buy new glasses. In addition, you can adopt the return system, ideal to reduce waste, but also to have a return on your investment.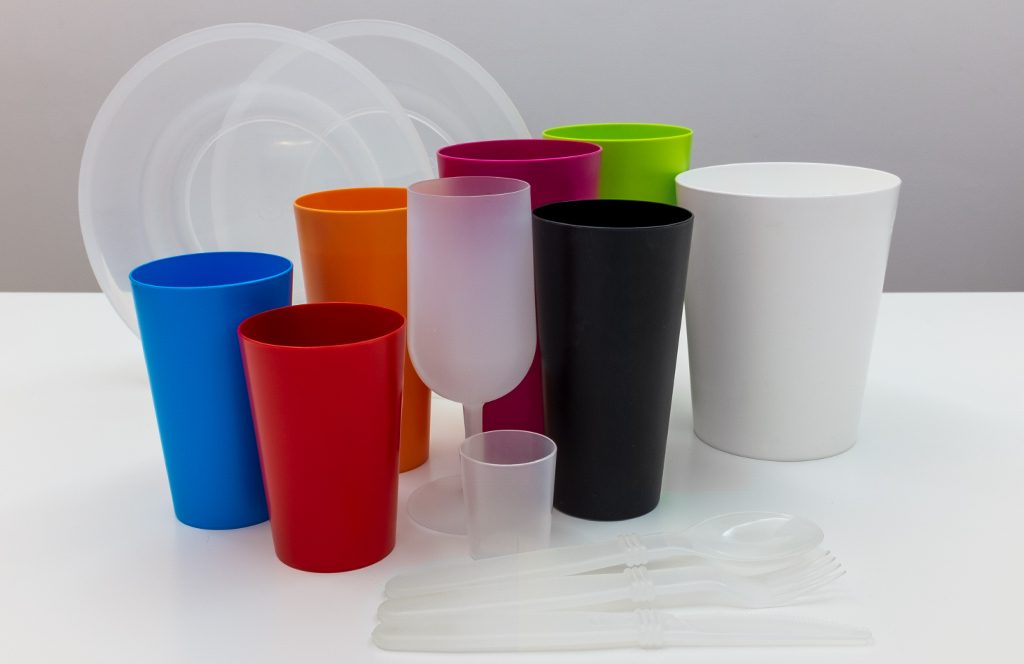 What is the return system?
For each glass not returned, the organization earns 1€, thus allowing to amortize / refund the purchase of the glasses. It is an easy way to promote your event and achieve a profitable margin. Participants decide to return the glass to their stand, or keep it as a souvenir from the event!
GobeletCup® offers high quality plastic cups
GobeletCup® has a personalization service that allows you to personalize reusable cups with a logo, image or design of your choice.
The chosen design can represent an event, a sponsor or any illustration you want to highlight. These visuals can contain up to 2 colors, in serigraphy, and without color limitation in digital printing. Beautiful and unique glasses, with the colors of your company or your event!
GobeletCup® cups are available in a "frost" version, but also in a wide variety of opaque colors. They are always intact after hundreds of washing cycles in the dishwasher. Most event organizers sponsor glasses for drink suppliers. The serigraphed cups then serve as advertising support and as a souvenir for your audience
Discover our GobeletCup® range, which in addition to glasses, also has cutlery:
Reusable INAO Wine Glass ECOVIN 12 / 18cl

Translucent flat reusable dish ECOPLATE

Translucent reusable deep dish ECOCREUSE

ECOCUT translucent reusable knife

Reusable translucent fork ECOFOURCH

Translucent reusable spoon ECOSOUP.
Contact GobeletCup® to get a quote! Our team will accompany your project from product creation to delivery.
For you, an entrepreneur and organizer aware of being a part in sustainable development, this product transforms your events into eco-events, and the habits of your team into eco-gestures. At a time when companies are increasingly opting for an ecofriendly activity and want to reduce waste, GobeletCup® offers you the recyclable plastic cup.
Say goodbye to the disposable and choose sustainable today! Transform your team's habits into ecological gestures for all your local, national or international events: festivals, fairs, concerts, beaches, big events, garden parties, etc.