The big day is approaching and a new life is about to start alongside the love of your life. To make this day even more special, she decided to hold her wedding in the countryside. Simple and rustic, she wanted to highlight nature, with many plants and flowers around it and natural materials.
You already have everything organized for a beautiful wedding in the countryside, from the decoration since the book of honors, but have you already chosen the gift for your guests?
Why not continue this concept of nature and the respect of our planet with personalized glasses for your country wedding?
GobeletCup® helps you decide and customize your reusable cups.
Why choose a personalized cup for a country wedding?
A country wedding represents nature, flowers, love for the countryside. When choosing this theme, the bride and groom opt for gifts from nature such as honey, fruit jams and jams.
At GobeletCup® we decided to propose a product that is totally consistent with your theme, and original at the same time.
On the other hand, it is a product that respects our planet. What else can you ask for?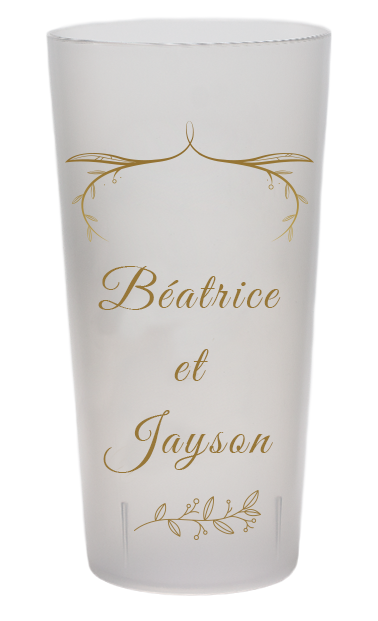 GobeletCup® reusable cups
A wedding is a unique event, where we have a lot of demands and we want the day to be perfect. For a wedding that fully respects the "green" theme, you must choose the best suppliers. Thus, you will be guaranteed a service that meets your expectations and needs.
At GobeletCup®, we are, above all, a part in sustainable development with the aim of protecting our planet. In this sense, we propose a sustainable, reusable and "eco-friendly" product.
Many doubts start to appear when you want to create your personalized cup for your wedding. The biggest one is related to the format. Is the chosen cup too small, or on the contrary, too big? How to show from a sketch what we really want?
With GobeletCup®, all your doubts will disappear! We have several reusable cup formats available to meet your needs. In addition, our team will be able to accompany you from creation to your personalized glasses delivery.
What other products are available for your wedding?
In addition to the personalized glasses for your country wedding, we offer a range of translucent cutlery (knives, forks, spoons) but also plates and wine glasses. We think of everything to offer you an unforgettable wedding.
With our reusable dishes and personalized glasses for your wedding, you will show your guests that it is important to choose ecological solutions in our daily lives, and that we can easily be eco-responsible citizens.
This investment will be conscious, because, at the end of the event there will be no glasses and dishes scattered on the floor, or even parties. They can be reused by the guests.
Do not hesitate to contact us to place your order, we are at your disposal to offer you the best solution!