The volume of waste during major events is significant.
To prevent these behaviors and raise awareness among organizers, in France and around the world, we decided to create an ecological concept.
We offer a product that will reduce waste and contribute to sustainable development, and that can also serve as a communication tool: reusable and customizable cups. Our initiative aims to respond to the evolving needs of the market and, at the same time, contribute to the protection of our planet. The reusable dishes and glasses, 33cl or other formats, are perfect for festivals, concerts, picnics or any other activity.
Reusable cups: your loyalty and communication tool
With the new energy transition law, reusable cups are increasingly requested during events.
Why not take advantage of this product and turn it into a communication and loyalty tool?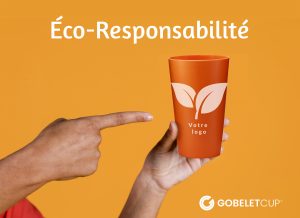 Loyalty
We know that the strongest points of a good strategy, sales or brand, have loyalty as an element. One of the solutions that has shown good results is, the communication through objects that we offer to customers.
By choosing reusable and customizable 33cl glasses, you will show your customers that you care about them and your brand is present in their daily lives. In addition, if your strategy has a voluntary commitment to a CSR initiative, then this object becomes an eco-responsible object.
Communication
Another reusable cups advantage is that they respond to communication goals. This product allows you to gain visibility, reach a large audience, differentiate yourself from the competition and create a positive image of your company.
Personalized cup: the ecological ace of your event
Personalized cups are festive promotional items that stay in user's mind. Unlike other advertising objects, reusable cups will be very useful for your customers. These products are very practical and contribute to sustainable development, but not only that:
They are customizable (company colors, logo, design,…)

Are sustainable and resistant to falls

Reusable (200+ times)

Reach a large audience, even people who were not present at the event

Make your brand known to consumers

Perfect communication tool

Less polluting compared to disposable cups.
It is important to remember that you will not have to clean and pick up glasses at the end of your event. To summarize and conclude: reusable cups are environmentally friendly, practical and a perfect means of communication. Do you want to join this ecological concept? GobeletCup® is available to help you find the best solution for you!
GobeletCup®: your ally in communication!
At GobeletCup®, we offer reusable and customizable different shapes cups. We know that it is not always easy to choose the ideal format, and for this reason, we have decided to include the 33cl ECO300 reusable glass in our range, a versatile and practical glass for your customers' daily lives. In addition, we offer a personalization service as it allows you to personalize reusable cups with the logo, image or illustration of your choice. If you have questions, you can always check on our website the different creations by GobeletCup® for our customers, and contact our team to place your order.
Discover also